Cut Costs & Bend Time With These Two Machine Technologies
We know that in today's world your customers are demanding more for less and want it done yesterday.  As a result, in order for fabrication shops to remain competitive their ability to eliminate rework, increase speed and accuracy, all while maintaining good profit margins is paramount.  To solve all three of these issues seemed like a near impossible task, until now.
Thanks to the experts at Virtek and Bend-Tech, our team is able to offer you machine tool solutions to change the way your Tube and Pipe Fabrication shop will work for the better.
Bend-Tech | The Essential Tool For CNC Tube & Pipe Productivity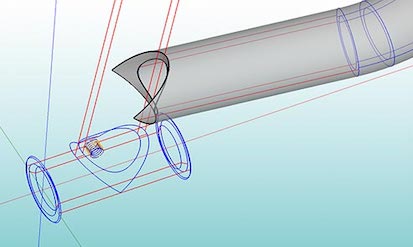 Long gone are the days of high scrap rates, mounds of paperwork, costly reworking of inaccurate components that don't pass inspection, and bending requirements that are impossible with material specifications.  With the intuitive easy-to-use Bend-Tech metalworking design software, that's compatible with any manual or CNC bending machine your business will save time and money without needing any prior experience with CAD software.
Bend-Tech software is full of robust features packed into a simple to use interface. Current customer's are calling it the, "essential tool for anyone looking to increase productivity in tube and pipe fabrication".  
With a few inputs into the computer, such as material and bend radius, the software is able to pull from it's extensive database to gain all the necessary information about the torque, tool setup, and bending difficulty.  The software takes it one step further to help determine if the material selected can handle the part geometry and will simulate the bend or cut on screen. 
If the simulation is successful, the fabricator can move into production.  If not, it's flagged and the designer can rework in the software, or discuss with other engineers or the OEM to resolve the issue.
Bend-Tech's integrable, robust, and ease to use software will give you more control over your manufacturing processes than ever before. With the power to digitally refine your process with a few simple clicks, you can save your company money and time that is only multiplied by removing downstream rework. 
Don't take our word for it, contact us today and schedule a webinar demo to walk through the software with one of our application engineers.
Virtek LTG | Re-imagine Simple Laser Layout Solutions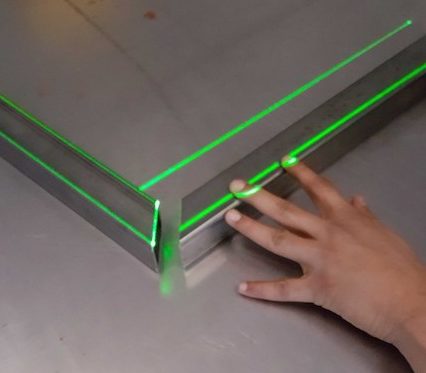 Every fabricator is looking for the machine or solution that will give their company the competitive edge, and help make their business function at peak performance. Our team has a wide variety of featured brands to help, including Virtek's Laser Template Generator (LTG).
If you're current work surface and process contains mountains of blueprints, and involves inaccurate and time consuming tape measurements, the LTG system from Virtek could help your company streamline production and reduce setups times by up to 70%.
The system works by projecting a laser template of the final assembly onto your work surface acting as a guide.  The laser lines eliminate the need for tape measurer or blueprints, and result in clean and productive work surface.  From the first part to the last, your workers can see how the sub assemblies and parts fit together to produce your finished product. With tight tolerances you will be able to increase the quality and accuracy of your work while saving your business time and increasing throughput. 
Whether you're shop fabricates complicated parts, rails, panels, or other complex geometries, the LTG system could be the cost effective solution you're looking for.
Contact our team today to schedule a demo, and learn more about the Virtek LTG.