Press Brakes Machines Distributor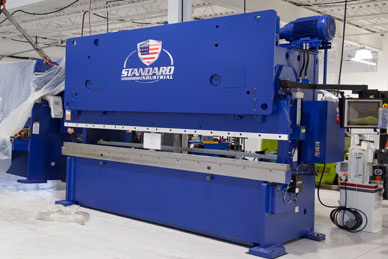 If you're looking to extend your shop's sheet metal bending capabilities, you'll find that we carry new press brake machines from top manufacturers. You get the reliability, durability, and accuracy you need for true bends that help ensure every job meets your customers' requirements. This includes hydraulic press brakes, electric presses, hybrid folding press brakes and manual systems. 
Our selection of press brakes for sale includes:
Standard Industrial Press Brakes – When you have heavy-duty bending jobs, Standard Industrial press brakes are up for the challenge. Known for their durability, high quality, and precision, they're suitable for many applications. They can handle full-length bends where full tonnage across the bed is a must and off-center loading when any amount of tonnage is needed across the bed. They're also perfect for short piece work because of super-fast ram speeds that get the job done quickly and easily. Learn more about Standard Industrial press brakes for sale here.
CIDAN Machinery Folding Machines – CIDAN Machinery manufactures folding machines that have unique qualities that make them different from traditional press brakes. They're equipped with an automated back gauge system and a large table that holds the weight of an entire sheet of metal, making it manageable for a single operator to handle the job. CIDAN machines work exceptionally well for folding large pieces of thin sheet metal into complicated shapes. Learn more about CIDAN folding machines for sale here.
Used Press Brakes – We also have an evolving stock of used press brakes for sale. Our used press brakes are a budget-savvy alternative to buying brand new. You not only get a great price, but you also get great quality. Most our used press brakes have been serviced and refurbished to ensure they offer exceptional performance, and all of them provide a great value compared to a brand new machine. See our list of used press brakes for sale here.
Press Brake Service & Repair
At Northeast Machinery Sales, we also have an in-house service team to handle all your maintenance needs and repairs. With the experience and skills to keep your press brakes and other equipment performing at the top of their game, you won't have to worry about downtime and lost productivity. Learn more about press brake service and press brake repair here.
Press Brake Productivity
As with any aspect of manufacturing, productivity is critical in the sheet metal bending process. Time—and precision—are money!
At Northeast Machinery, we sell press brakes and accessories that represent the gold standard in bending and folding. We focus on offering what will provide the highest level of efficiency and accuracy—and what will give you the opportunity to serve clients with an array of needs.
Our inventory contains equipment and tools to boost productivity when you have a job requiring a press brake.
Automec Back Gauge Systems
A leading manufacturer of CNC gauging systems, Automec makes programmable back gauge systems that retrofit into press brakes to accomplish jobs fast and accurately. Automec systems allow for automatic adjustment of the back stop; and, in many press brakes, they also enable the ram to be programmed. Learn more about Automec back guage systems for sale here.
Wila Press Brake Tooling
Wila makes tooling for press brakes that easily snaps into stations and make it quick to go from one project to the next. Offered in New Standard and American Style in several standard lengths, Wila's modular tools make it possible to achieve nearly any bending length. You get flexibility, durability, speed, accuracy, and safety with Wila press brake tooling. Learn more about Wila press brake tooling for sale here.
Ready To Boost Your Productivity On Every Project?
We have all the new equipment and enhancements that you need to get your customers' jobs done as efficiently as possible. But that's not all! We also have used press brakes for sale to help you stay on budget. Check out our list of used press brakes for sale here.
We offer comprehensive service and repair to keep your press brakes, metal cutting, and metal fabrication equipment in tip-top condition. Learn more about press brake service and press brake repair here, and contact us today to learn more about how to increase productivity in your shop!