Industrial Vision Inspection Machines
InspecVision 2D & 3D Inspection Systems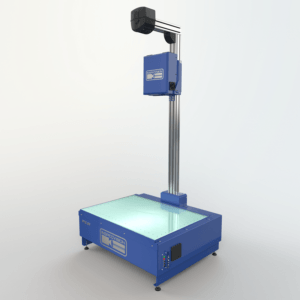 InspecVision develops a range of precision inspection machines that have the capability to meet the needs of several applications, such as, automotive, aerospace and electronics. Renowned for their machines quality and proficiency, these computer vision-based measurement systems are what makes InspecVision the leader in the inspection industry.
InspecVision's machines are designed for a variety of sheet metal fabricating processes such as laser plasma, and water jet cutting, in addition to sheet metal punching, stamping, bending, and forming.
AUTOMATED 2D & 3D MEASURING CAPABILITIES
2D Inspection Machine – This 2D Inspection machine provides quick measuring or reverse engineering of flat parts which have been manufactured using a variety of sheet metal processes. Whether it's laser, plasma, waterjet cutting, or any other punching and stamping processes the speed and accuracy of this product is what makes it a reliable choice for your shop floor operations.
Opti-Scan – This 3D inspection machine is the only system in the world to accurately produce 3D surface measurements and edges. This machine uses a high-speed, high-resolution camera and an LED projector to capture the measurement of surfaces. This scanner is also portable and capable of large volume scanning.
Accuity – This integrated inspection machine is the perfect combination of InspecVision's 2D and 3D capabilities and more. This all in one machine allows for easy comparison of dimensions and tolerances, making your set up and inspection more efficient than ever. The total setup and inspection time for a new part is unrivaled, at around 4 seconds.
These machines come in many different sizes, with customizable options table sizes and tolerances. Live web demos and showroom demos are available for clients looking to learn more. Contact us today to get more information.
PDF: 2D Inspection Machine
PDF: 3D Opti-Scan Machine
PDF: Accuity 2D & 3D Inspection Machines