Flow Waterjet Cutting Systems
Innovative Waterjet Cutting Technology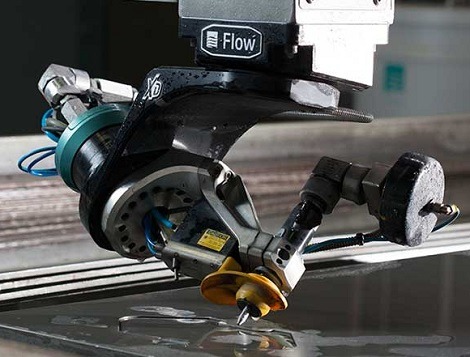 Flow takes abrasive waterjet cutting to new levels of speed and performance. By combining precision system components, advanced pump technology, and innovative software, they have created the most versatile waterjet technology available to manufacturers today. If you'd like to learn a little more about waterjet cutting systems and how they may benefit your applications and needs, check out our blog post Waterjet Cutting Vs Laser Cutting!
Waterjets from Flow help manufacturers maximize production with a few unique features.
Direct Drive and Intensifier pump technology provide velocity where you need it which means you can produce parts faster and at lower costs.
Patented Dynamic XD cutting heads, deliver accurate 5-axis motion, capable of cutting compound angles with high accuracy and giving programmers the greatest amount of flexibility.
FlowXpert software allows quick programming and helps achieve the utmost in performance from the machine
Most importantly, Flow machines cut parts fast, with some customers reporting cut times two to four times faster than their older machines
A Waterjet Built For You
Flow waterjets are manufactured in a variety of lines adding to their ability to deliver a versatile machine to the end user.  With different series, options, and sizes Flow can provide over 1000 different configurations to fit your specific application and need. Flow Mach 100 to Mach 700 and custom machines make Flow the markets most versatile manufacturer of advanced waterjet cutting technology.  Read below for a few of the machine series.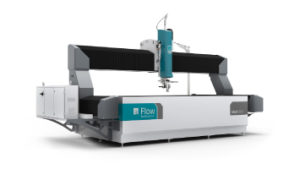 Mach 100 | Start Now The Mach 100 gives you the fundamental versatility of waterjet cutting with no frills. Engineered with the same components as Flow's premium cutting solutions, it features robust cutting capabilities and a programmable Z-axis for added flexibility.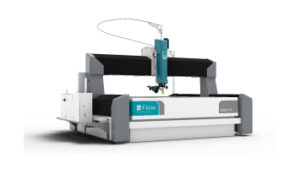 Mach 200 | Elevate Expectations The Mach 200 is specifically engineered to deliver value, reliability, and performance. The system is purposefully crafted to be a practical and flexible waterjet solution. Get capabilities reserved for elite waterjet systems with the Mach 200.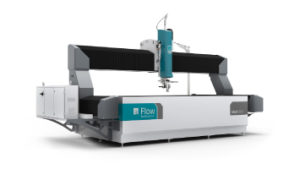 Mach 300 | Move Forward The Mach 300 is purpose-built to deliver reliable performance that you can depend on. The system is a no-nonsense waterjet solution that is efficient and practical. The Mach 300 minimizes impact on shop floor space – and your wallet.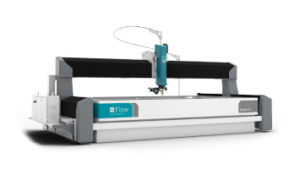 Mach 500 | Make More The Mach 500 is unmatched in accuracy, quickness and speed, making it your most productive solution. The system is revolutionary in terms of reliability and productivity, backed by the only comprehensive service program in waterjet. Uniquely flexible, the Mach 500 can be everything you want, or just what you need.
Mach 700 | Think Big The Mach 700 waterjet is the ideal cutting solution for heavy industry. Available with a dual bridge, the Mach 700 series is a large format waterjet designed for demanding environments and exacting expectations. The ideal combination of size, speed, and accuracy: make a big impact on your bottom line with the Mach 700.
If you're interested in learning more about Flow waterjets, or cut test parts on our showroom machine, contact us today to request a quote. We look forward to hearing from you!
A Pump for Every Application
There are two types of pumps used today for waterjet cutting: the linear intensifier pump and the rotary direct drive pump. Both intensifier and direct drive pumps are capable of reliably delivering ultrahigh-pressure water for heavy-duty industrial use in today's manufacturing environment. Unlike the competition, Flow expands it's portfolio by offering both types of pumps resulting in 1000+ sizes and configurations to offer customers.
Rotary Direct Drive PumpFlow Intensifier Pump Technology
Rated up to 60,000 psi
The direct drive pump offers energy efficient, compact, and rugged design in a variety of configurations.
Linear Intensifier Pump
Rated from 40,000 psi to 94,000 psi
Flow's intensifier pumps are the most technologically advanced ultrahigh-pressure pumps and are dependable and proven to deliver ultrahigh-pressure where you need it.
Flow Waterjet Software: FlowXpert
With Flow's patented FlowXpert software, programming 2D or 3D models is simple, fast and accurate. With more intuitive programming your business will do more and make more with less effort.
Import your 2D or 3D file or design your own from scratch
Automatically clean up geometry issues
Path your part, FlowXpert automatically creates the most efficient path
Preview your part, the system will check for any cutting issues
Save your ORD file and send to the machine, FlowCut does the rest
40+ years of waterjet expertise packed into easy-to-use software that is at your fingertips. To learn more about how a waterjet could make the perfect addition to your workflow, contact us today!
VIDEO: Waterjet Cutting With Compass