TRUMPF's TruBend Cell Advantages
Press brake and bending operations are facing more challenges today than ever before. From industry-wide labor shortages to increasingly complex production processes, manufacturing faces strong headwinds. Fortunately, for metal fabricators and OEM's around the globe, TRUMPF has developed automated bending solutions that help companies remain competitive in today's manufacturing industry.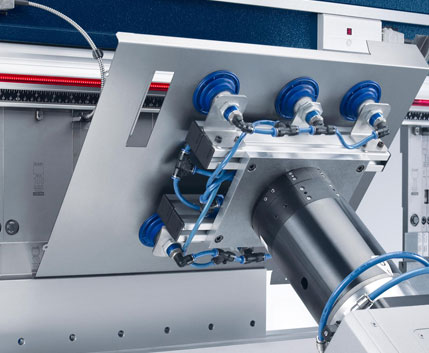 Why Automate The Bending Process?
Automated bending cells, such as TRUMPF's TruBend Cell 5000, are the perfect solution for those who value productive and flexible automation, for the widest range of parts, as well as consistent high part quality. The automatic bending cell enables you to process parts even more efficiently by selecting the perfect press brake and BendMaster, TRUMPF's forming robot, according to your specific needs. TRUMPF's system also provides maximum freedom in the design of the material flow using conveyor belts and pallet conveyors.
While the TruBend 5000 offers a solution for a wide range of parts, the TruBend Cell 7000 focuses on innovative high-speed automatic bending of small parts. The 7000 is the fastest, most compact solution for fabricators looking to increase their productivity in a highly dynamic, efficient way. The cell is comprised of a press brake, a BendMaster, and a LoadMaster material handling unit. These elements are precisely coordinated to achieve consistent cycle times, resulting in times as low as 4-5 seconds per bend.
Whether you are bending large, heavy parts that require multiple operators or small components with varying cycle times, TRUMPF's automated forming cells offer unmatched accuracy, efficiency, and productivity.
What Is The Trumpf Difference?
Trumpf TruBend Cells have a best-in-class reputation, and what sets these automated bending cells apart can be found in some the technology behind their unique features.
Vision Systems
TRUMPF robotic cells have an integrated vision system which eliminates the need to square each blank or square the stack of parts presented to the robot. The system will identify the orientation of each part with a high-speed camera and adjust itself automatically.
BendMaster and LoadMaster
Due to its flexibility, the BendMaster robot can readily automate solutions for small to large parts with carrying capacities up to 330 lbs. Integrated sheet sensors allow the Loadmaster robot to load blanks parallel to production and ensure precise material transfers to the BendMaster through optical measurements.
Automated Controlled Bending
TRUMPF's angle measuring system achieves consistently precise angles using tried-and-tested methods without any manual intervention.
Offline Simulation Software
TruTops Software allows rapid generation of new bending programs from a single source, which in turn helps increase productivity. By visualizing the entire process in 3D in advance, troubleshooting is complete before the first part is run in production.
Built-in Efficiency with Integrated Grippers
Say goodbye to time-consuming regripping, thanks to gripper changing consoles with vacuum technology. These include multiple-circuit suction cups that can be individually controlled and multi-grippers that can be individually adjusted.
Design-For-Purpose Robots
Unlike some robots designed for a multitude of tasks, TRUMPF TruBend Cell robots have been designed specifically with sheet metal bending in mind. This results in more optimized travel motions, faster cycle times, and easier programming. The machine and robots support the operator in their work as much as possible.
Through these unique features, Trumpf automated bending cells deliver unparalleled benefits for the fabricator's bending operation needs.
Enjoy The Automated Bending Cell Benefits 
The TruBend Cell 5000 and TruBend Cell 7000 are high-speed, innovative bending cells designed to help fabricators automate their production process, prevent downtime, and ultimately optimize productivity. Just a few of the TruBend Cells advantages are:
Improved profitability
Reduce the labor rate from bending operations with automation
Consistency
More consistent throughput and cycle times with excellent part quality
Additional production capacity
Run 24/7 without adding manpower
Employee solutions
Automation can be an answer to the lack of available skilled laborers
Reduced risk of injury
Safeguard your operators, especially those processing large and heavy workpieces
Precise angles
The first part is the perfect part with ACB measuring
Quicker production
Back gauges and a dynamic drive concept make the TruBend Cell 7000 the world's fastest small-part bending cell
Optimized material flow
The LoadMaster Bend loads quickly, reliably and parallel to production
Wide range of parts
Process small and large parts with the gripper and vacuum gripping technology
Unbeatable efficiency
Set up the right tools automatically with the ToolMaster Bend-change tools automatically saving time and effort.
Leverage The Speed Of The Fastest Bending Cell in the World
At 12 bends per minute, the Trubend Cell 7000 is the fastest bending cell in the world. Whether you process simple or complex parts, the 7000 and 5000 offer cost-effective solutions for any format. Thanks to Trumpf's automated press brake cells, metal fabricators are able to enjoy worry-free production that results in substantial cost savings with consistent and accurate results each time. Bending has never been easier or more efficient.
Learn more about Trumpf's automated bending cells solutions, or contact us to request a quote.
Video: TRUMPF TruBlend Cell 5000
Video: TRUMPF TruBlend Cell 7000