CNC Routers & Aluminum CNC Routing
Need to quickly, effectively, and efficiently process a wide range of metals, including aluminum?
Using a CNC router, or aluminum CNC routing is the perfect route for you.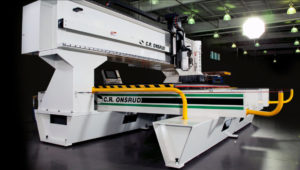 A CNC router is a versatile processing machine used to cut various materials, including aluminum, steel, brass, copper, stone, composites, plastics, glass, wood, and foams. But instead of routing by hand, tooling and cutting are controlled via the computer.
CNC routers are automated and controlled by computer and software applications. CNC routers receive design data (CAD) and the computer control translates it into programming codes (CAM). These codes contain the instructions for the tool head on how to move when to move, and where to move.
Today's CNC routers use vacuum holding techniques that cut the needed parts in an efficient "nest" from a full sheet of material. Jig or fixtures can be quickly mounted for parts requiring edge milling or drilling. 
Wide Range of Benefits of CNC Routing
CNC routers have become one of the most commonly used machines in industrial shops today, especially for cutting and processing metal. When processing metals, including aluminum, CNC routers provide a host of advantages:
Fast. The movements and spindle speeds of a CNC router are much faster than the speed of a CNC milling machine. This makes for quicker processing, which is ideal if you need to make large quantities of a single part.
Efficient. CNC routers can accomplish multiple operations on a single part without repositioning. When the part is removed, it is finished. That reduces production time and produces less waste.
Consistent. CNC routers create near-identical parts every time with a minimum of error.
Versatile. CNC routers can be used to repeat the same cutting and processing on a piece or create one-time, specialized designs.
Compact. CNC routers used to be large and take up a lot of room but now come in compact designs for smaller shops. Because they are designed to handle lighter materials, CNC routers are significantly lighter than milling machines, which need to be larger to hold harder metals steady.
Easy to operate. Since Routers are run with computer software, CNC Routers are fully automated machines capable of running on their own.
Serving Your Industry
CNC routing, and/or aluminum CNC routing is used to process and machine metal, plastic, foam, wood, honeycomb, and other composite components and parts to precise sizes and shapes in a wide range of industries, including:
Medical
Aerospace
Transportation
Oil and Gas
Military
Electronics Marine
Signs
Recreational vehicles
Retail Display Builders
Building Construction
Electric Generation Industries
CNC routers can produce and process hinges and pipe fittings, corrosion-resistant components for boats and ships, and other vital parts for the transportation industry.
C.R. Onsrud: Your CNC Router Partner
CNC routers come in all different shapes and sizes. You need to make sure you're getting high-quality equipment to get high-quality performance.
Northeast Machinery Sales supplies high-performing, long-lasting CNC routers manufactured by C.R. Onsrud.
CNC routers from C.R. Onsrud can be found in the manufacturing facilities of many of the largest brands in the world – Boeing, Goodyear, Steinway & Sons. The company has been around for over 100 years, manufacturing machines that cut and process wood, metals, composite materials, plastics, and more.
CNC routers from C.R. Onsrud are more versatile, more accurate, safer, and easier to operate than any other CNC routers on the market. The design, engineering, and production teams tirelessly craft build, fine-tune and test each machine. Every product that departs CR Onsruds facility is a unique and exceptional workhorse created to meet your specific manufacturing needs.
No matter whether you operate a small machine shop or a large-scale industrial machining facility, Northeast Machinery Sales supplies high-quality, high-performing CNC routers from C.R. Onsrud to create the precision parts your need.
C.R. Onsrud provides the innovative features you expect from an industry-leading manufacturer of metal fabricating equipment:
Customized to fit our exact needs
Versatile
Deliver accurate, precise cutting and design
Help reduce waste
Ease of operation
Maximize productivity and profitability
Northeast Machinery Sales has served fabricators, manufacturers, and related businesses with the latest in fabrication and machine tool technology for more than a quarter of a century. From Maryland to Maine, we're a one-call resource for the latest fabrication technology. Contact us today to learn more about how we can serve your CNC router or aluminum CNC routing needs.