Sunrise Metal Fabrication Equipment Distributor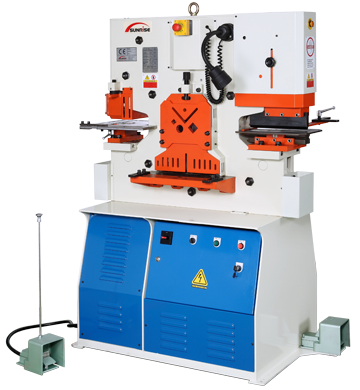 Ironworkers & Processing Machinery
Sunrise has been manufacturing metal fabrication equipment for over 50 years, and their industry-leading ironworkers are designed with multi-functions to save labor, time, energy and cost. This multi-function versatility allows Sunrise to meet a range of needs throughout the metal fabricating industry. Currently, Sunrise has the highest reviews of any ironworker brand on the market today.
The Sunrise line of ironworkers and metal processing machinery includes:
K-Series Ironworkers
Single Cylinder Ironworkers
Dual Cylinder Ironworkers
Single-End Punches
Semi-Automatic CNC Ironworkers
Fully Automatic CNC Ironworkers
CNC Plate Shears
Automated Angle and Channel Punch Systems
Automated Plate Processing Systems
If you're interested in learning more about ironworkers, shears, and plate processing machinery from Sunrise, please contact us today to request a quote. As a Sunrise CNC ironworker & APS systems distributor, we look forward to hearing from you!
VIDEO: Automatic Punching & Shearing System