ARKU DEBURRING SYSTEMS DEALER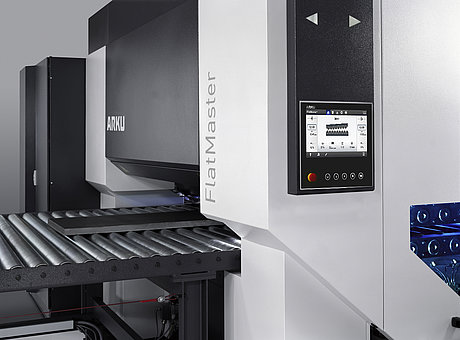 Precision Leveling & Deburring Systems
ARKU is an industry leader in leveling and deburring systems. Since 1928, ARKU has developed an extensive line of roller levelers that is known worldwide for precision and accuracy.
In addition, ARKU's deburring systems have gained prominence thanks to their single- and double-sided deburring options, and their ability to handle a range of burr sizes. They even manufacture small deburring tools for thin laser cut parts.
Read on to learn more and see videos of leveling and deburring systems from ARKU, and contact us today if you'd like to request a quote on a leveling or deburring system for your business.
Deburring Equipment
Whether aluminum, steel or titanium, Arku's EdgeBreaker deburring systems rapidly and reliably remove burrs and slag while gently rounding the edges on both sides of metal parts. This means part quality and process reliability that will put your business a step ahead of the competition.
The EdgeBreaker combines maximum precision and speed with easy operation and high efficiency. This is the result of technical details such as the vibration-free movement of the sanding blocks to ensure a longer service life and the automatic recognition of parts whose parameters have already been entered into the control system.
Benefits of Arku's EdgeBreaker deburring system include:
Double-sided deburring and edge rounding in one pass
High process reliability due to clean, smooth surfaces – delivering optimum deburring and edge rounding every time.
Grinding drum media can be changed quickly and easily
Grinding and edge rounding blocks have a long service life and can be replaced quickly and easily using Arku's patent-pending "click" system
Calibration of the grinding and edge rounding media measures and automatically compensates for wear on the machine
After the initial configuration, the system operates automatically, saving time and reducing user error
For a quote on an Arku deburring system for your business, contact us today. We look forward to helping you determine the best machine for your unique process!
Leveling Equipment
Arku manufactures precision levelers that ensure quality for a variety of stamped, laser cut and flame cut parts. Compared to other leveling methods, Arku's FlatMaster delivers perfectly leveled and nearly stress-free parts in only a matter of minutes. This makes subsequent processes such as welding or bending faster and more reliable. ARKU manufactures precision levelers ranging in thickness capabilities of .020 inches up to 2.25 inches and with a maximum width of 118.1 inches. Read on for a few features and benefits of these systems.
Leveling Gap Control
Provides consistently good leveling results even on parts with cut-outs. See the following video clip for more information.
Leveling Roller Quick-Change System
During day-to-day production, dirt and material residue can accumulate inside the leveler. The maintenance and thorough cleaning of the leveler can be performed quickly and easily.
Overload Protection
The leveling process creates strong counteracting forces between the material and the leveling unit. Before an excessive level of force is reached, the machine will stop and raise the leveling unit.
Intuitive Control
The easy to use digital control screen features a value database for saving individual job settings and even provides a recommended inlet and outlet value based on material thickness.
The benefits of using an Arku leveling system in your facility include:
Quicker and more precise than manual leveling
Increase precision by eliminating variations in stock material
Decrease scrap and rework caused from out-of-level stock
Save time and money
For a quote on a new or used Arku FlatMaster leveling system, contact us today! As an ARKU deburring system dealer, we look forward to serving you.